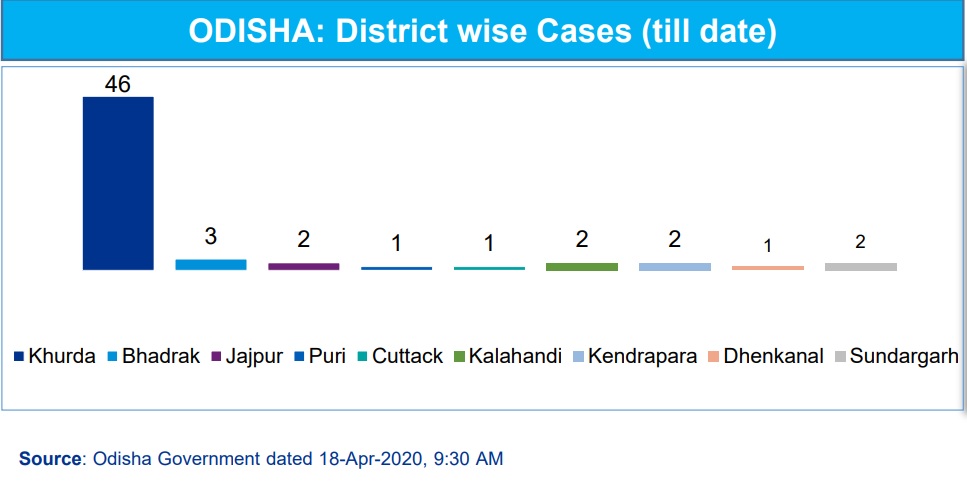 Blink News Network 
Bhubanewar, April 18: The state government on Saturday said that it has reported a new case of COVID 19 after a gap of three days. In the latest, a elderly man from Balasore district has been tested positive for the global pandemic.
This is the first ever case of Coronavirus from the district which till now had not reported a single such case. The latest one is related to a 58-year-old man whose samples after testing in state laboratory was found to contain the contagious COVID 19.
With the inclusion of the new case, the total cases of COVID 19 in the state has reached 61. "A total of 8619 samples have been tested in the state as of now out of which the number of positive cases stand at 61. The state has now 36 active cases while 103 are under hospital isolation," a statement from the Odisha Health and Family Welfare Department said.
The department also said that it has seen a surge in the cases of recoveries. In the last spree of recoveries, three persons from Bhubaneswar alone have recovered from the global pandemic.
A statement from the state health department said, "Three more positive cases of COVID 19 in Odisha, all from Bhubaneswar, have recovered and are being discharged. With this the total recoveries of the State stand at 24."