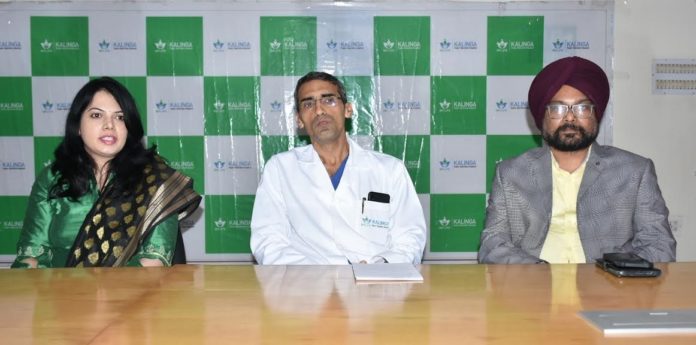 Blink News Network
Bhubaneswar, Jan 24: A team of doctors from a private city hospital in the state capital is reported to have removed a tumour from the uterus of a 48-year-old patient after the ailing women visited the health centre with a protruding and painful abdomen.
Doctors claim that usually tumour of such heavy weight and dimension are hardly found among the women population. Terming such a surgery as one of the rare surgeries, the team claimed that during the surgery the 27cm x 15cm x 07 cm sized tumour was removed successfully. They also said that to avert the chances of any relapse,  the uterus and ovaries were also removed from the woman's body. Doctors said that as the woman was close to her menopause age, there was no medical issue involved in removing her ovaries and uterus.
"Usually we do not find such a large sized and bulky fibroid tumours in the uterus of a women. These are not regular affair. With a team of doctors we successfully operated on the ailing women. To ensure no tumour re-developes, we removed the uterus and ovaries of the woman too," Dr Rashmi Ishwar Hegde, Consultant – Obstetrics and Gynecologist, BR Life Kalinga Super Specialty Hospital told theblink.in.
She also added, "The patient was obese and hypothyroid. We managed her metabolism at first and stabilized her. If left untreated, the tumour would have damaged multiple organs and could have been life-threatening. "
The doctors claimed that advanced surgical technologies were performed in this surgical resection. The tumour was present inside the uterus, affecting the ureter (the duct by which urine passes from the kidney to the bladder) and multiple blood vessels.
The patient, 48-year-old Badarun Bibi hails from Nimapada in Odisha. She earlier started complaining of having severe lower abdominal pain, urinary difficulties, irregular vaginal bleeding, and her abdomen was gradually increasing in sizein the last three months.
She later started feeling diffculity in carrying her heavy tumour. She was moved to the hospital for urinary difficulties. The MRI of uterus and pelvic region revealed the size of the tumour in her lower abdomen leading to her surgery.
She said, "I had no idea that I was carrying such a massive tumour in my lower abdomen for years. I was suffering from lower abdomen pain for a very long time but kept ignoring it. I am thankful to the doctors and staff of the hospital for diagnosing my real problem and treating me with care."