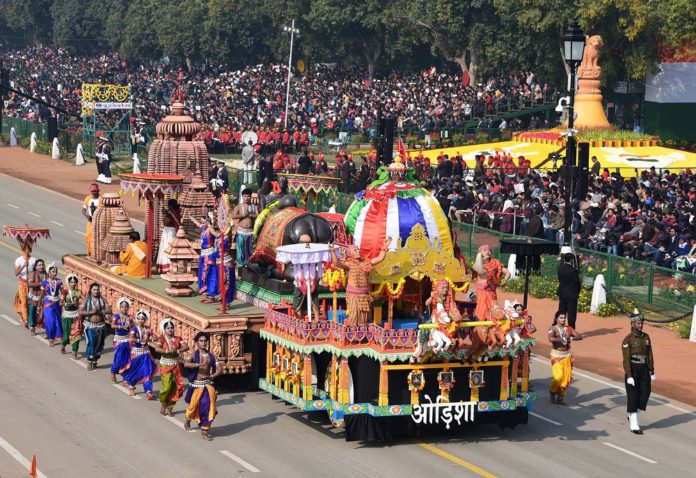 Blink News Network
Bhubaneswar, Jan 28: The Union government Tuesday ranked the tableau of Odisha paraded in the Republic Day function of the Red Fort among the top three best performing entities and awarded the state for their maverick work.
Union Defence Minister Rajnath Singh Tuesday gave away the award to the Odisha Information and Public Relations (I&PR) Secretary Sanjay Singh the award for the outstanding performance. Odisha was awarded for second best presentation and depiction of the state's rich art and cultural heritage.
The Odisha tableau tried to depict the famous Rukuna Rath yatra of Lord Lingaraj of Ekamra Khestra, now confined in the old town of Bhubaneswar.  The first award was shared by the tableau of Uttar Pradesh for their depiction of Sarva Dharma Sama Bhav.
Singh gave away the awards and prizes related to the Republic Day 2020 at Rashtriya Rangshala Camp, Delhi Cantt on Tuesday. Assam was adjudged the best tableau among the 16 states tableaux that participated in the Republic Day Parade at Rajpath on January 26, 2020. The tableau of Assam was based on the theme 'Land of Unique Craftsmanship and Culture'.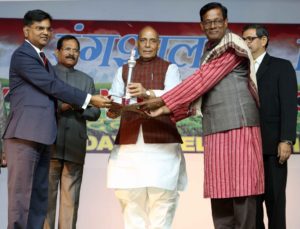 Among the six tableaux from different ministries/departments, Ministry of Jal Shakti and National Disaster Response Force (NDRF) won the joint best Tableaux award. The Ministry of Jal Shakti tableau had showcased the Government's new initiative 'Jal Jeevan Mission' which aims to provide functional household tap connection to every rural household by 2024 – Har Ghar Jal. In line with its motto 'Aapda Sewa Sadaiv', the tableau of NDRF showcased the force's successful and illustrious journey of humanitarian service in natural and man-made disasters.
The tableau of Central Public Works Department (CPWD), with the theme 'Kashmir se Kanyakumari', bagged the special prize for showcasing different parts of the country decorated with colourful and fragrant flowers.
Raksha Mantri gave the award of best cultural performance to the children of Sarvodaya Kanya Vidyalaya, B-Block, Janakpuri, New Delhi. The children displayed a colourful performance on the theme 'Mharo Rang Rangilo Rajasthan'. The consolation prize was given to the children of West Zone Cultural Centre, Udaipur who presented Garba, the folk dance of Gujarat.