By: Pramit Karmakar
Cuttack, Nov 12: At a time when the COVID 19 outbreak has led to loss of business for Cuttack traders, the recent ban on crackers has proved to be a double whammy for them during this Diwali.
Several traders indulged in Diwali fire crackers trading are now baffled with the new rules which have added to the woes of already aggrieved business men and small shopkeepers  who used to wait for the festival season with baited breath for a plum business. Several traders told The Blink that they used to do a business of upto Rs 5 lakh-Rs 6 lakh during Diwali which now only seems to be a Herculean task.
Several markets areas now in Nayasadak and others in the Silver City which were earlier hosting an array of crackers of different varieties have now either compromised on their earnings while some others have been trying to use some alternative ways to make the best use of the festive season.
Ashish Kumar Majhi is a seasonal shop owner for the last four years at Nayasadak. He said that earlier, he used to sale crackers worth Rs 5 lakh. He said, "This year the shop owners were expecting a sale for  days of crackers to compensate for our losses of lockdown and pandemic. We applied for the licence too but the government cancelled it due to the pandemic. We had paid the advance also, though it was reimbursed still we had to bear some losses,"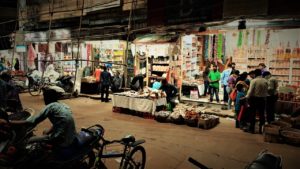 He also added, "This year I am selling Made in India lights but the sales are not very encouraging. I had anticipated the slow sale trend owing to the loss of income of middle class group due to the pandemic so had bought the products 50 per cent only,"
Ganesh Agarwal is another shop owner for the last 20 years in the same area. He said, "Though we sale products for every occasion like Rakhi, Holi, Kartik Purnima, the maximum sales are done during Diwali. This year we are seeing a drop in our sales as the rates are a bit higher due to the pandemic and people are checking on their expenditure too,"
He also added, "I have ordered 30 percent lesser stock anticipating lesser sales.  We deal in idols, garlands, stickers, candles, diyas and varieties of worship materials. Prices of our products have increased upto 20 percent overall and transportation of products have increased upto 30 percent,"
Nevertheless, several other traders in the city have now found other alternative ways to woo the customers and to lighten their coffers. Many shops have now come up with attractive lighting, local diyas and several other decorative items while other sectors of the market are now busy offering special offers to boost their sales at a time when their competition from online markets are rising and the subsequent lockdown and shutdowns have put a dent on their incomes.
The citizens too have planned to celebrate this Diwali cracker free but at the same time planning their own way to celebrate the festival in their own way. Many citizens especially the businessmen of Cuttack have reported a slash in their total income due to the COVID 19 outbreak.
Asutosh Bhartia is a businessman from the city batted for giving priority to health than celebrations. "Like every year we are shopping for this Diwali but keeping in mind about all the government norms and regulations of social distancing, sanitization and mask. As the market has a hike in price for about 20 to 25 percent we have kept in mind to lit lesser diyas in home and shop,"
Several customers admitted that this time the prices of the products in the market have gone up.