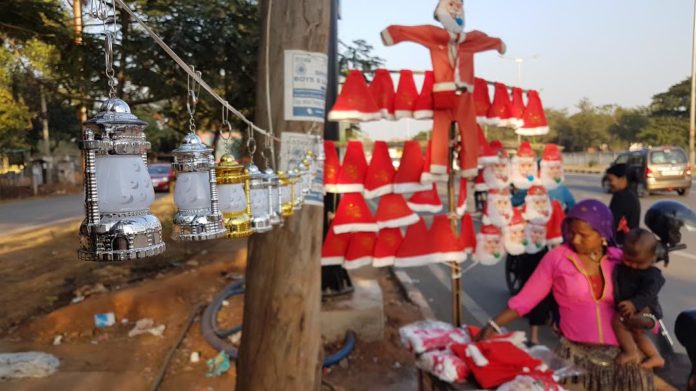 Blink News Network
Bhubaneswar, Dec 24: Religious festivals always remain special to the people who love to celebrate them. Several denizens enjoy flaunting their festival-specific products in front of their relatives and on social media. Several migrant workers settled in the state capital on their side also try to make the cultural festivals in Bhubaneswar more vibrant from their contributions.
Bhubaneswar has been home to several such migrants from north Indian states who love to contribute to the happiness index of the urban people in the smart city. Either the important squares of the city or roadsides, these migrants often come up with attractive items to woo the people here and make their celebrations grand.
With the arrival of Christmas season many of these migrants, majority of them claimed to have migrated from Rajasthan are now seen selling items to magnify the Christmas celebrations. From the fancy colourful red hats to clothes to other decorative items, these vendors have made the city streets colourful now.
"Whenever we hear about any upcoming festival we chip in. We try to bring the best products at affordable rates to attract the people towards our stalls. With this festival target sales the flow of money keeps on going which helps us in surviving in these times when the common commodities are becoming expensive," said Rakesh Singh, a vendor selling Christmas hats near Nayapalli.
Many of these migrant traders claim that often they sell car shades, cushions and other items at important squares of the city and survive besides ensuring a good life for their kids. Many of these people have also started mastering the local language to strike a chord with the locals.