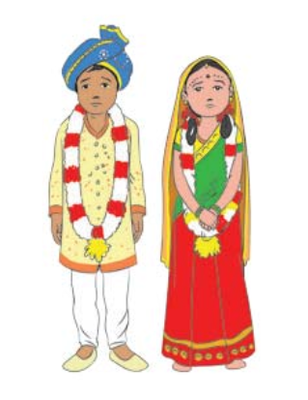 Blink News Service
Bhubaneswar: Making the compliance of actions against child marriage mandatory for the government officials involved in the process, the Odisha government has issues strict warning against erring officials.
In a latest notification on the Odisha Prohibition of Child Rights Rules, 2019, the State Women and Child Development Department had put a new clause of taking disciplinary actions against erring government officials who attempt to shun their responsibilities in averting child marriages in their area.
The rules bat for a creation of a Chief Child Marriage Protection Officer (CCMPO) who would be either a senior member from the State Women and Child Development Department or from the office of Mission Shakti. The new rules have empowered the CCMPO to take disciplinary actions against such erring officials who defy their responsibilities in checking child marriage despite the role they have been entrusted upon as per their roles.
Moreover it has also added some more responsibilities to the District Collectors to get their direct involvement in the cases of child marriage. The new rules mandate that the Collectors furnish report on the cases of child marriage from their district to the CCMPO. This move is likely to create more authentic data base on child marriages, experts opine.
According to Ghasiram Panda, Programme Manager at ActionAid there had always been ambiguity in terms of authentic data on child marriages and different offices had their own versions. Now he said with single nodal officer in the form of Collector for statistics, we can get an authentic picture of the social menace.
Unlike the earlier rules on child marriage, the state government in the latest rules has also empowered the Collectors to act in emergency situations where moving courts is not feasible.
The new rules have many new dimensions which were earlier not addressed in the earlier laws on child marriage. This has also ensured definitions of government originations involved in the process like Child Marriage Protection Officer (CMPO), Child Welfare Committee (CWC). It has also laid down the mandatory works each official under the system is supposed to do.
Rules after HC intervention
The new rules comes after an order from the Orissa High Court which asked the state to formulate new rules after a petition was filed before it by child rights activist Ghasiram Panda.
Panda in his PIL had cited latest Supreme Court order urging the HC to direct the state to formulate new rules on child marriage as mandates as per the SC order.
The HC had directed the State to come up with new rules in four months. Post HC order, a special committee was formed to overlook the matter.
The panel reviewed the state child marriage laws, other child marriage laws in other Indian states and came out with a strategy paper with their recommendations. The recommendations have led to formation of the new rules which is said to have addressed the earlier lacuna in the child marriage laws in the state.