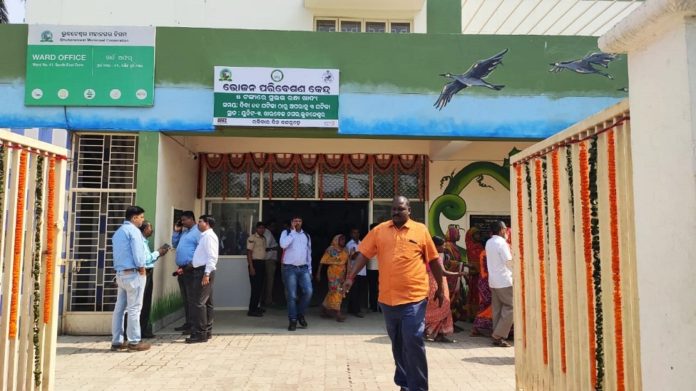 By-Pramit Karmakar
Bhubaneswar, Feb 19: After spreading its wings at several nook and corners of the city, a new Aahar centre has now come up in the Kharabela Nagar area of the city. It has been envisioned that the new centre will provide food at highly subsided rate of Rs 5 per meal to the needy.
The centre-cum-shelter home for the urban homeless was inaugurated Science and Technology Minister Ashok Chandra Panda. Others who joined the inauguration event included MLA Ananta Narayan Jena and MLA Susanta Ku Rout. The centre was inaugurated near NAC colony in the area.
The minister himself was seen serving and the foot to the citizens on the inaugural day. He also ate the food from the centre with other people around the centre.  "It is a very good initiative undertaken by the state government and is also helpful for the poor" said Panda.
He also appreciated the state government for its dedication on the front. On the question of its maintenance, he said "All the Aahar centres in all the 30 districts are well maintained and are operational to their fullest".
The main objective of the program as per the minister is to provide cooked hot meals – steamed rice and dalma- to the poor and needy people at the cost of Rs 5 at places of public congregations in the urban areas.
The cooked hot foods are being provided to the beneficiaries at an affordable cost from 11 am to 3 pm each day, except Sunday. The actual cost of the food comes around is Rs 20. The remaining cost of a meal i.e. Rs 15 is being met by support from CSR, local donation, charity, CMRF and others.
Around 67,000 needy poor people are getting the benefits daily in the state under the scheme. Beneficiaries mostly include patients, attendants of patients, construction workers, labourers, rickshaw pullers, auto drivers, street children, needy students, destitute, rag pickers and others.
Aahar centers are mainly found in places like hospitals, bus stands or railway stations. The hygiene of the food is said to be checked by different municipal hospitals. Recently the government added night meals in 54 Aahar centers near hospitals to provide needy visitors with cheap and hygienic night meals.
The night meals are served from 7:00-9:00pm. There are currently 110 centres operational across 30 districts of Odisha covering 73 towns. 
(Pramit Karmakar is a news inter with The Blink)