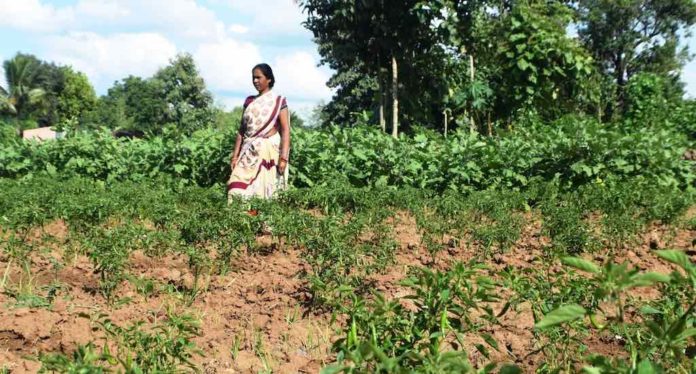 Kandhamal/Kalahandi: "Unless we consume a variety of foods that include vegetables and greens, pulses and legumes, and meat and fish along with rice, where will we get adequate nutrition? How can our children have proper physical and cognitive growth?" asked Golapi Kanhar.
The question from Golapi Kanhar (35) of remote Kasirikhol village in Kandhamal district, a Kondh woman with primary education, reflects increasing awareness about nutrition and food diversity within the community.
This renewed view of Kondh women on nutrition management raises hope for Kandhamal that still battles to overcome malnutrition. Nutrition management through food diversity is the new practice in the Kondh tribal community of Odisha, with women leading the change by becoming their family's nutrition manager.
Poor health
As per the nutrition profile of Kandhamal district, stunting is prevalent among 38.4% and wasting is prevalent among 23.1% children under five years of age. Among children of the same age group, 43.1% are underweight and 42.7% are anemic.
Among women of reproductive age (15-49 years) in the district, 52.7% are anemic. According to India's Ministry of Health and Family Welfare data, anemia is prevalent among 73.4% adolescent girls (15-19 years) and 63.3% women of reproductive age in the Scheduled Tribe communities of Odisha.
Undernutrition is at the core of all these problems, the primary cause being poor diet, or lack of micronutrients in food.
Analyzing food and nutrition insecurity in the developing world, EAT-Lancet Commission in its report Food in the Anthropocene notes that more than 820 million people have insufficient food, and many more consume low-quality diets that cause micronutrient deficiencies, otherwise called hidden hunger.
Ignorance about edibles
Despite being an agrarian tribal community, food consumption habit of Kondhs lacked in terms of diversity. "Our daily food consisted of rice as the staple and a potato smashed with a piece of onion, a green chili and a pinch of salt. Sometimes we used to eat some greens instead of potato. We had goat meat on days of festivities and household ceremonies," said Tikima Kanhar ( 32).
"In fact we were unaware of a lot of things; we didn't know that we could eat plantain, the plant's flower and stem," Tikima Kanhar told VillageSquare.in. "We used to sell the raw plantains to outsiders and vegetable vendors."
"During childhood, we didn't eat papaya, drumstick and many other fruits. Now we understand how essential and rich in micronutrients they are, to keep us healthy," said Sunil Kumar Mallick, district project coordinator for state-run Mission Shakti programs, recalling his childhood days.
Poultry meat taboo
There has been a community taboo about consumption of animal-based foods. "In Kondh community, women and girls who have attained puberty are barred from eating chicken meat and egg, although they can eat mutton, which they get occasionally," said Amara Majhi (60) of Kanakpur village in Kalahandi's Narla block.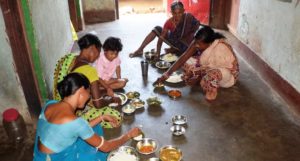 "The reason of such a stricture being unknown to anyone in the community. It is unscientific," Diksha, behavioral change communication specialist with Care India's Technical Assistance and Research for Indian Nutrition and Agriculture  (TARINA)  project, told VillageSquare.in.
"It only deprives adolescent girls and women of their right to food and nutrition that is easily available because almost all the tribal families rear chicken," said Diksha, who uses only one name. TARINA project is implemented in 72 villages across five administrative blocks of Kandhamal and Kalahandi districts. It aims to improve nutritional status of Kondhs through a food system approach.
Hidden hunger
While there is no visible hunger among the Kondhs, micronutrient deficiency or hidden hunger is widely prevalent. "That's because of lack of diversity in their food. Most of them do not know how to bring diversity to the food plate," said Bijaylaxmi Singh, project officer for TARINA project in Kandhamal district.
"So in collaboration with district units of Integrated Child Development Services (ICDS) and Odisha's self-help program Mission Shakti, we organized cooking demonstration camps in project villages to educate people, particularly women, on preparing food by using a variety of vegetables, pulses and edible stems," Singh told VillageSquare.in.
The cooking camps educated people on food diversity and in freeing their consumption behavior from wrong beliefs. "Our girls now eat eggs and chicken meat. We prepare dalma (a mix of dal and a good range of vegetables), vegetable fried rice, plantain stem and a variety of green leaves at home," said Amara Majhi (61) of Kanakpur village.
Behavioral change
According to the Lancet report, switching to healthy diets are likely to benefit human health substantially, averting 10·8 million to 11·6 million deaths per year, a reduction of 19% to 23·6%.
Ninima Pradhan of Kakamaha village, in Tikabali block of Kandhamal district, is happy with the new food items because her children and other family members enjoy the food now. "Six months ago, I weighed 40 kg, but I weigh 45 kg now. It's because of our new consumption habit," said Rajalaxmi Pradhan (50) of the same village.
"Personal hygiene being integral to nutrition security, we educate the Kondhs about cleanliness and hygienic practices through specially designed nutrition-gender toolkit with stories and characters these women can associate with and imitate in their day-to-day life," said Preeti Pragyan, field officer, behavior change communication and women empowerment, for Kandhamal district.
Animal-based food
Cows and buffaloes are a part of Kondh agriculture system; the animals are used for tilling and the dung as manure. "We did not milk the cows because we were not used to consuming milk. We milked cows only when someone fell sick and needed to drink milk. Rest of the time, we left it for the calves," Nrupati Majhi (45) of Kanakpur told VillageSquare.in.
Community behavior regarding milk consumption has not yet changed. Though milk is available in some villages, most of the Kondh women have no knowledge of making dairy products like curd, cheese and butter. The women said that demonstration workshops on milk and dairy products, similar to that on vegetables, would be of help.
Appreciating the women's idea, Rajendra Kumar Samantaray, chief veterinary officer of Kandhamal district, said, "We are working with a local farmers' cooperative to promote dairy farming in the community as a business. It will help people earn and consume milk whenever they want."
Kitchen gardens
The Kondhs being poor, creating awareness on consumption is not enough unless affordable access to food is ensured. As per the district human development report, with a poverty ratio of 75.42%, Kandhamal fares poorly on various socioeconomic indicators compared to other districts of Odisha.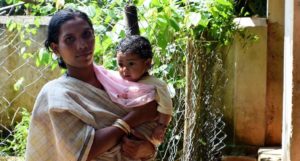 "The only solution to this is kitchen garden where they can grow vegetables, greens, legumes, etc., for their consumption," Manoj Kumar Dash, Kandhamal's deputy director of horticulture told VillageSquare.in. "With the idea picking up in some administrative blocks, nutrition scenario is changing."
Similar interventions in the neighboring state of Jharkhand have also yielded good results. Kitchen gardens tended by women in Gumla district of the state have boosted rural diets by providing a rich variety of local cereals, pulses and vegetables, which have improved the nutritional status of their families.
Women who have raised kitchen gardens are happy as they get vegetables from the backyard and their dependency on market for food items has decreased drastically. "I grow brinjal, potato, tomato, ginger, onion, beans, pumpkin, carrot, bitter gourd, green chilly, cauliflower and different types of greens based on seasons," said Rajalaxmi Pradhan.
Improved health
"We cultivate rice and a local variety of pigeonpeas in our family land. We buy only spices, oil and salt from the market," Rajalaxmi Pradhan told VillageSquare.in. Almost all the families of Kakamaha village have their own kitchen garden. Moringa, papaya and banana are common plants in every kitchen garden.
"They eat vegetables that they were not consuming earlier. The changed consumption behavior and hygienic practices have resulted in good health of people, particularly children, adolescent girls and women," said Sunima Pradhan, accredited social health activist of the village.
"This idea needs to be scaled up and expanded to all blocks of Kandhamal and other districts with substantial tribal population living in poor conditions. The government as well as non-government agencies should help people to convert their backyard into a family food center," said Manoj Kumar Dash.
Basudev Mahapatra is a journalist based in Bhubaneshwar. Views are personal.
(This news report was first published in villagesquare. Read the full story here)