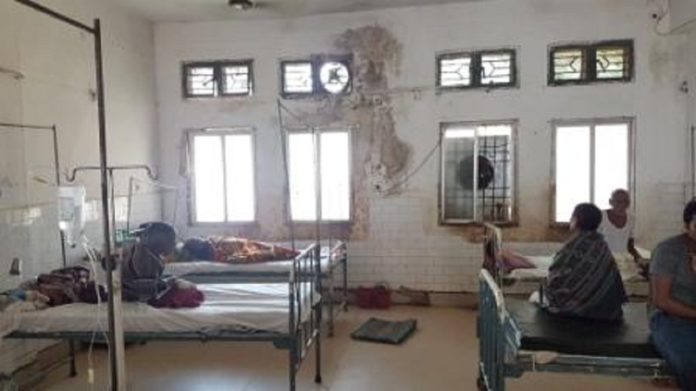 Blink News Network
Bhubaneswar, Jan 22: At a time when higher number deaths of children at Kota Hospital in Rajasthan are making rounds in the country, there are also alarming bells in western parts of Odisha which is reported to be losing close to 900 children per year at its best government hospital.
According to the information furnished by the Veer Surendra Sai Institute of Medical Science and Research (Vimsar) at Burla in Sambalpur district, around 900 children are dying on the hospital campus per year. Many attribute such higher numbers due to the poor performance of the Primary Health Centres (PHCs) and the massive vacancy of doctors in the state in rural areas and under-served areas of the state.
The data from the VSS Medical College claimed that in 2019 alone a total of 5099 children were admitted in the hospital out of which 876 died in the hospital during treatment. Such higher number of cases of deaths from the most trusted government medical college of western Odisha is also attributed due to it being a referral centre where many smaller health care centres send them to this Burla-based medical college as last resort.
In 2019 alone the he special newborn care unit (SNCU) of the hospital admitted 2,870 patients and recorded 220 deaths. Meanwhile a total of 2,229 infants were admitted in the neonatal intensive care unit (NICU), of which, 656 infants died, making the total deaths at 876 which is close to 17 per cent of the total admissions of the kids.
The hospital administration has claim that the condition could not be termed as alarming if the total number of deaths at SNCU is below 10 per cent and below 30 per cent in NICU.
Poor PHC performance in Odisha
Much of the deaths and terminally ill arrival of patients in the hospital could be attributed to the poor performance of the PHCs in the state. Many of the people who come to VIMSAR are from the rural and tribal families who either struggle to get treatment at local PHCs or do not find quality infrastructure or doctors on their campuses.
According to a recent data as furnished by the Union Minister the state hosts a total of 1288 Primary Health Centres (PHCs), which are local government hospitals in different parts of the state. However, interestingly a total of 110 such hospitals do not have a single doctor to attend the patients.
The Union minister in his reply claimed that only two out of 1288 PHCs have three doctors to serve in the state. It also said that at most of the PHCs only single doctor is handling all the patients. The number of PHCs which are headed by single doctors in Odisha stood at the highest of 585. There are also 578 such centres which have two doctors to give their services and handle the patient flow.