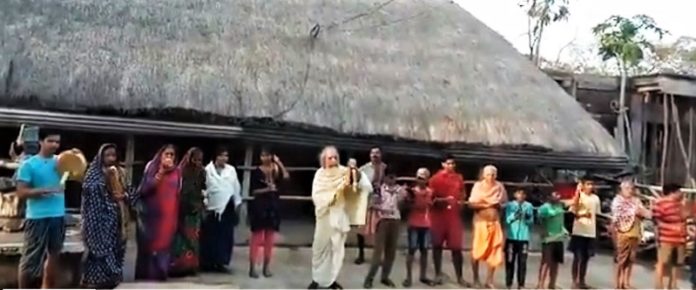 Blink News Network 
Bhubaneswar, Mar 23: Union Minister of State for MSME Pratap Sarangi on Sunday defied the directives of Prime Minister Narendra Modi who appealed to Indians to ensure social distancing during the Janata Curfew on Sunday.
Sarangi who is the Lok Sabha MP from Balasore and a minister in his cabinet seems to have failed in understanding the meaning of the address of PM to the nation. While the PM appealed to the people to maintain social distancing during the Janta Curfew and thank the persons working in emergency situations from their isolated places, the minister did the opposite.
Sarangi in a video shared by himself on his verified twitter account was seen making the event a mass gathering event sans social distancing between the participants. Close to 20 participants from his village was seen standing glued to each other and making symbolic sounds of thanksgiving by creating sounds through collision of utensils. The mega crowded event was headed by Sarangi himself who was the centre of attraction for such action.
Some netizens have now criticized Sarangi for his actions which seem in contradiction of what the PM had preached to the nation. However Sarangi was not alone who got it all wrong. Several ill informed citizens to extend their support to the PM's directive decided to use conch, utensils and bells to create sound.
However many of them in the country turned this into a mega event which witnessed rallies, convergence of people at one point which was completely opposite of what the PM has appealed to the people. Viral videos of several such incidents are making the rounds on social media.
Unlike Sarangi, several other BJP leaders like JP Nadda, Yogi Adityanath and others were seen either isolated or maintaining social distance between members of the group involved in thanksgiving exercise on Sunday which marked the PM's Junta Curfew call.