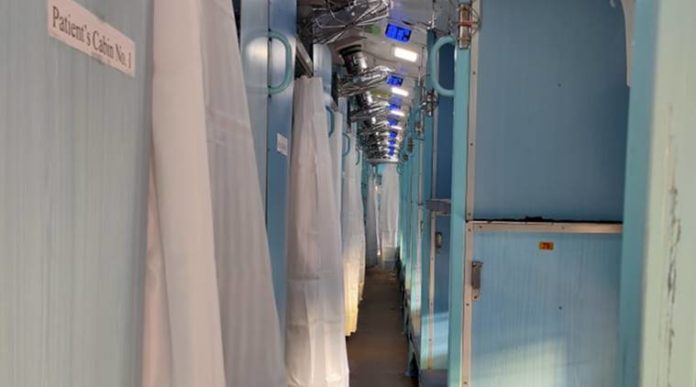 Blink News Network
Bhubaneswar, April 2: Close to 200 railway coaches in Odisha are most likely to be converted into isolation wards soon to tackle the surged cases of Coronavirus in the future. Indian Railways has decided to prepare the large number of isolation wards in Odisha as per part of their preparedness to tackle the pandemic and also to aid in the treatment with their pre-existing infastrucuture.
A total of 261 railway coaches under the jurisdiction of East Coast Railway (ECoR) will now been converted into isolation wards as per the directions from the Railway Board in New Delhi. After instructions from the central office, the zonal office has started their works into this direction.
As per officials from ECoR, five places in their region will be roped in for the works which will lead to retrofitting the old coaches into isolation wards. This wards have been planned to cater to the needs of patients in case of surged cases of COVID in the state.
The five places where the isolation wards out of the coaches will be made included-Bhubaneswar, Puri, Mancheswar, Sambalpur and Vishakhapatnam. "At these five places the isolation wards will be made from the rail coaches. Prototypes are in final stages."
As per the guidelines only non-AC sleeper coaches are planned to be utilised after conversion into quarantine cum isolation coaches. Two Oxygen cylinders will also be provided by the Medical department for which suitable clamping arrangement on the side berth side of this cabin will be provided.
The railway department during the retrofitting will remove the middle births while extra bottle holders would be provided in each cabin for holding medical equipment, two for each birth. It has also been asked that mosquito net to be provided on windows to avoid mosquito entry inside and have proper ventilation too.
"Each cabin will be provided with three dustbins with foot operated lids of Red Blue and yellow colour suitably linked with garbage bags. For insulation of the coaches, bamboo/khus mats may be affixed on roof and each side of of the coach above and below windows to shield effect of heat inside coach,' the norms suggested by the Railway Board said.
The Railway board has instructed all the zonal offices to ensure that during the retrofitting exercise all the charging points for laptop and mobile to be functional which could be used to run medical equipment. "It must be ensured that all amenity fittings are in place, upholstery is in good condition and broken panels and others are replaced," the board said.