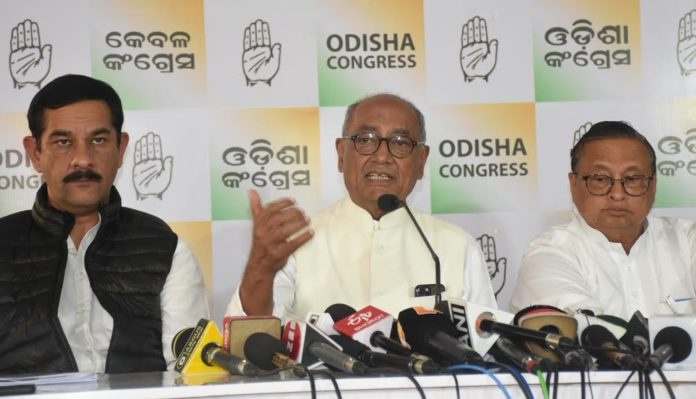 Blink News Network
Bhubaneswar, Jan 17: Senior Congress leader Digvijay Singh during his visit to Bhubaneswar Friday lambasted the Odisha Chief Minister Naveen Patnaik for not being a democrat. He accused the serving CM of being an 'autocrat'.
During his media interaction Friday, the senior leader from the All India Congress Committee (AICC) said that during his interactions with the BJD MPs in New Delhi he had come to know about the attitude of the CM and his un-democratic ways.
"In Odisha I have been told that a single bureaucrat-Mr Pandian has been running the state. He is the first person who meets the CM in the morning and the last one who the CM sees. As an MP I often meet the Odisha MPs including the BJD MPs. They tell me about the CM," he said.
The senior leader also added, "Naveen is a gentleman but he is not democratic. He is an autocrat. Tell me how many party MPs and MLAs have direct access to the CM. Naveen and Modi are good friends and both of them are working together in the state."
The Congress party parliamentarian accused the Biju Janata Dal (BJD) and the BJP of working together in the state. "BJD acts differently at the state level and central level. When the regional party is inside the parliament they often bestow their favour to the key bills put forth by the BJP government at the Centre. However, when they are in the state they like rivals."
When asked by the reporters who is the main rival for the Odisha Congress, the leader said, "Both the BJD and BJP combined because they are single entity actually. Both work together hand in gloves. There is no difference. Both support each other. BJD is the team B of the BJP. There is no doubt about that."
On the other hand, Singh also accused the Union Petroleum and Natural Gas Minister Dharmendra Pradhan and his flagship scheme of Ujjwala which works towards giving free LPG connections to unserved population.
He said, "There should be inquiry on the Ujjwala scam. CAG report has exposed the massive irregularities in the functioning of the scheme. We have come to know through the audit report that minors are given Ujjwala connections and selected people are getting more than 22 cylinders on a single day. These needs to be probed."