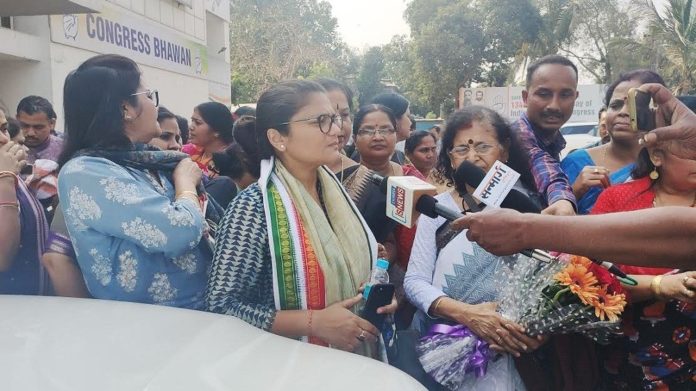 Blink News Network
Bhubaneswar, Feb 22: The declaration of the new President of the Odisha Congress Women Wing will be made likely after March 8 this year, said the All India Women Congress Wing President Sushmita Dev. Dev was on visit to the state capital, on Saturday.
During her visit, the former MP from Assam held an interactive meeting with the Women Wing of the Odisha Congress party on Saturday at the Congress Bhawan in the state capital. The meeting was focused on selecting the new president of Odisha Mahila Congress and also to discuss about the policies of the state government on alcohol besides brainstorming on the dismal performance of the party during the recently held elections in the country.
During her interaction with the women leaders of the party, she said, "Despite the jolt in the recent elections, all the workers of Mahila Congress have worked really hard from their region. Whoever will get the post of President of Odisha Mahila Congress has to be hard working and a deserving candidate. It is not yet decided who will be the President, but it will be decided after International Women's Day on March 8,"
While talking to reporters, Dev criticized the state government as well as the Central government for having a poor record on the issue of women safety. "Congress can only raise voices against atrocities, because we are not in power, neither in the state nor at the Centre. The track record of the state and central government in women's safety is an open and shut case. MLAs of BJP are raping girls in UP and they are giving the slogans of Beti Bachao Beti Padhao,"
She also attacked the state government for its irresponsible attitude regarding consumption of alcohol. She said, "Excessive alcohol interfere with peace in families, it eats into the income of that family and also leads to increased violence".
She also added, "It is a menace and the government should find a way to control the production, distribution and consumption. It is a issue so it is our responsibility to highlight it,"
Sushmita Dev is a former Member of Parliament from the constituency of Silchar in Assam. Currently she is the President of All India Mahila Congress.