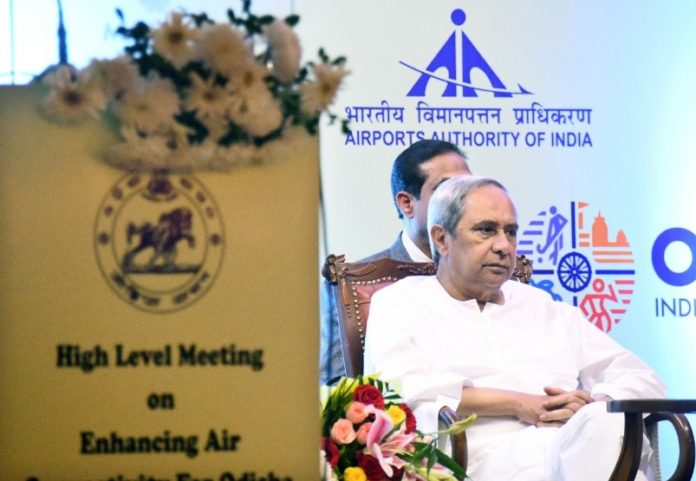 Blink News Network
Bhubaneswar, Jan 22: The state government has now shown the intension of operating 14 new flights connecting the coastal state with other popular destinations within and outside the country. Odisha Chief Minister Naveen Patnaik Wednesday held a meeting into this regard to bring the operators on board.
Patnaik Wednesday met the Chief Executive Officers (CEOs) of major airlines, aviation officers and other bureacucrats from the state government to brainstorm on the issue relating to the increased air connectivity to the state. He appealed to the airlines players to come onboard and boasted about the potential the state offers to tourism and other avenues.
He said, "Domestic flight connectivity has in the past few years has seen a spurt but there is ample scope for international connectivity. Odisha in the past few years have seen rapid growth and have been making its presence strongly in many sectors. The aviation traffic in the state has also got impetus," The event witnessed the participation from 25 CEOs of different airlines.
Odisha Chief Secretary Asit Tripathy meanwhile offered to exempt Value Added Tax (VAT) on fuel for international flights. It has been decided that merely one per cent VAT will be charged for airlines that plan to operate on the new routes connecting the state.
According to a media release from the Chief Minister's Office (CMO) it was informed that 14 new flights are planned to/from Odisha at the meeting.  Most of the flights are scheduled to operate between January to Summer 2020.
The planned destinations are Kolkata-Jharsuguda, Bhubaneswar-Varanasi, Varanasi-Bhubaneswar, Jharsuguda-Mumbai, Prayagraj-Bhubaneswar, Delhi-Bhubaneswar, Bhubaneswar-Rourkela, Bhubaneswar-Kalaikunda, Bhubaneswar-Bangkok, Bangkok- Bhubaneswar, Singapore-Bhubaneswar, Bhubaneswar-Abu Dhabi.
Government data suggest that the state is struggling to have direct connectivity to popular cities like Pune, Varanasi, Allahabad, Jaipur and others and the new routes are likely to connect these nodal points through Jharsuguda and Kolkata.
The CM meanwhile also appealed the civil aviation ministry to new connectivity to underserved areas of the country. He said, "I request the Ministry to introduce new connectivity from  Odisha to domestic destinations like Pune, Jaipur, Lucknow, Chennai, Vizag, Kochi and Ranchi. Similar is the demand for potential international hubs like Dubai, Abu Dhabi, Singapore, Hong Kong, Bangkok and Colombo. I assure that the State Government will provide necessary support,"
Secretary of Ministry of Civil Aviation PS Kharola said aviation is the new engine of economic growth.   He highlighted that while there is only 17 percent growth in aviation nationally; Bhubaneswar has seen 29 percent cumulative growth.