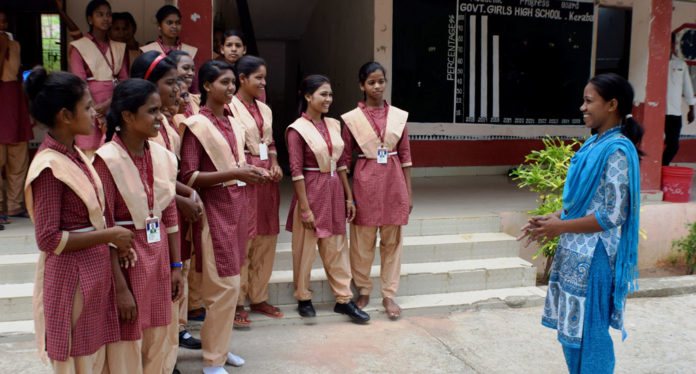 Gajapati/Rayagada: Sagarika Raika (21), of Keranga village in Gumma administrative block of Gajapati district works as a cluster coordinator under Odisha's Integrated District Intervention program (IDI). She has been working towards empowerment of adolescent girls and women for the past four years.
She is popular in the community for standing against the marriage her parents finalized when she was 16, since girls dared not go against social norms like early or child marriage. Raika could do so because of the life skills education she had received.
According to World Health Organization (WHO), life skills are abilities for adaptive and positive behavior that enable individuals to deal effectively with the demands and challenges of everyday life.
Life skills required for the health and well-being of children and adolescents include decision making, problem solving, creative and critical thinking, effective communication, interpersonal relationship, self-awareness, empathy, and coping with stress.
Life skills training imparted to tribal school students in Odisha has empowered girls, and brought down the common practice of child marriages.
Child marriages
"Child marriages take place due to pressure from the family and community, and lack of awareness on the fallouts of early marriage," said Sanjukta Tripathy, program manager at People's Rural Education Movement (PREM), a local non-profit organization.
PREM conducts life skills education programs for adolescent girls. "Life skills education informs and empowers adolescents deal with issues such as physical changes during adolescence," Tripathy told VillageSquare.in.
As per Indian laws, any marriage where the girl is below 18 and/or the boy is below 21 years of age is a child marriage, a punishable offence. Other than legal implications, according to Girls Not Brides, a global alliance of organizations, child marriage violates girls' rights to health, education and opportunity.
While exposing girls to violence, and trapping them in a cycle of poverty, child marriages hinder the achievement of at least six of the Sustainable Development Goals set by the United Nations.
Government initiative
Child marriage being prevalent among scheduled tribe (ST) and scheduled caste (SC) communities, Odisha government has included life skills education as an academic component in all residential schools run by ST & SC Development, Minorities & Backward Classes Welfare Department.
In partnership with United Nations Population Fund (UNFPA) and civil society organizations, the department provides life skills education to more than 6,50,000 students studying in 1,670 schools across the state.
"Through this scientifically designed program, since 2015, we have been creating awareness about physical and cognitive growth during adolescence, and demystifying myths about personal health, individuality and sexuality," said Sushant Kumar Panda, program manager for life skills education in Odisha's residential tribal schools.
Awareness for girls
"In life skills education sessions I learnt about the physical and behavioral changes integral to adolescence and the ways to cope with them. We were also sensitized about the possible consequences of early marriage, which helped me convince my parents about my planned early marriage," said Sagarika Raika.
In most cases, adolescents find it difficult to oppose pressure, when it comes to marriage. "We bring self-awareness among the adolescents, to understand themselves, establish their personal identity, resist any negative pressure, and live up to their full potential," said Panda.
"Our community teaches us different myths and beliefs, expecting us to conform to popular gender norms," Mridusmita Sabara, a student of Keraba Government Girls' High School , told VillageSquare.in. "After attending these classes for an hour every Saturday, we understand the importance of knowledge."
Empowered girls
Raimani Gamanga and her classmates at Keraba school in Gunupur block of Rayagada district have dreams regarding their future. "The dreams came naturally after we attended life skills sessions, when we realized our potential and ways to tackle issues in life to move ahead for a better future," said Gamanga.
"Such education has changed the views of the girls about life," said Umarani Gauda, matron of the school hostel who has also received special training on life skills. "They are not shy any more to talk about personal issues. Now they are capable of dealing with issues affecting their life and future."
Far-reaching impact
Impact of life skills education is not confined to the campus. According to Sabyasachi Rout, who is in charge of life skills education at Bhubaneswar-based Kalinga Institute of Social Sciences (KISS), with students educating friends and peers in their village, it impacts the communities as well.
Kumari Deepanjali Pradhan, a tribal girl pursuing M.Sc. Physics at KISS, said that school dropouts and adolescents find it difficult take decisions on their own, due to lack of life skills training. "During vacations, we prepare projects for the students so they can help their communities by passing on the knowledge they gained at the institute," Rout told VillageSquare.in.
"I belong to the Saora tribe; when I go home during holidays, I try to share my knowledge with friends, relatives and other community members, and try to convince them why child marriages should be stopped," said Mridusmita Sabara.
Reduced child marriages
By creating self-awareness among adolescents from tribal communities and helping the girls nurture dreams, life skills education has been successful in bringing down the number of child marriages in districts with predominant tribal population and in the state as well, said Panda. By end of 2016, in Gumma block, child marriages were almost nil because of life skills education
Though child marriages are more prevalent in tribal communities, with top five being tribal populated districts of Malkangiri, Nabarangpur, Mayurbhanj, Koraput and Rayagada, as per National Family Health Survey 4, the custom prevails in non-tribal and upper class communities too.
"Life skills education needs to be extended to all high schools if child marriages across communities are to end," said Rukmini Panda, gender specialist working with OXFAM. "There should be gender education in high school curricula; and life skill education should be gender focused to create gender awareness among adolescents and youth."
Renewed efforts
According to Eliminating Child Marriage in India, a report by ActionAid, negative consequences of child marriages must be included in the curriculum of class six and above.
In October 2019, Odisha government announced a five-year action plan and new rules to make the state child marriage free by 2030. The state government would appoint a Chief Child Marriage Prohibition Officer empowered to initiate action against officials failing to prevent child marriages in their jurisdictions.
"As the custom is governed by social norms, stigma and other factors, punishments may not be the solution," said Rukmini Panda. "Education and gender sensitization among school students and at community level would make the state child marriage free."
Basudev Mahapatra is a journalist based in Bhubaneshwar. Views are personal.
The story was first published on villagesquare.in.