By-Adarsh Mohanty
Bhubaneswar, Feb 6: Doctors from the leading government cancer hospital from Odisha-Acharya Harihar Regional Cancer Centre (AHRCC), Cuttack now suspect that the popular coastal dish of sukhua (dry fish) is responsible for rise in cancer cases.
The director of the AHRCC –Dr Lalatendu Sarangi in an exclusive conversation with theblink.in claimed that intake of salty dried fish is one of the key reasons for rise in stomach cancers in the state.
He also said that now stomach as well as colo-rectal cases are on the rise in the state due to consumption of dried fish besides the increased tendency of the Odias to opt for more spicy foods. He also blamed the change in lifestyle for such change in the patterns of cancer cases in the state. He claimed that earlier oral cancer among men and cervical cancer among females were more prevalent which has now been replaced by more stomach cancer and breast cancers.
"We are now seeing more patients with stomach cancers in Odisha besides increased cases of colo-rectal (intestinal) cancers. More intakes of salty and spicy food, salty dried fish and change in lifestyle are some of the important reasons behind the rise in the cancer cases in the state," he told theblink.in.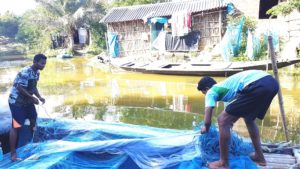 According to the region-wise distribution of cancer cases in Odisha as recorded by the leading cancer hospitals like All India Institute of Medical Sciences (AIIMS), Bhubaneswar and AHRCC, Cuttack more number of stomach and colo-rectal cancers are reported from the coastal states of Odisha. Doctors claimed that this trend hints at the suspected linkage of dried fish consumption, popular in coastal Odisha to higher numbers of cancer cases from the region.
"The most common form of cancer reported from coastal Odisha is stomach cancer. This hints that the popular dish there-salty dried fish is linked to increased stomach cancer from there. We will need a study to prove this scientifically but the trends of cancers from coastal Odisha raise fingers at dried fish consumption link to cancer," Dr Madhabananda Kar, Oncologist from AIIMS-Bhubaneswar told theblink.in