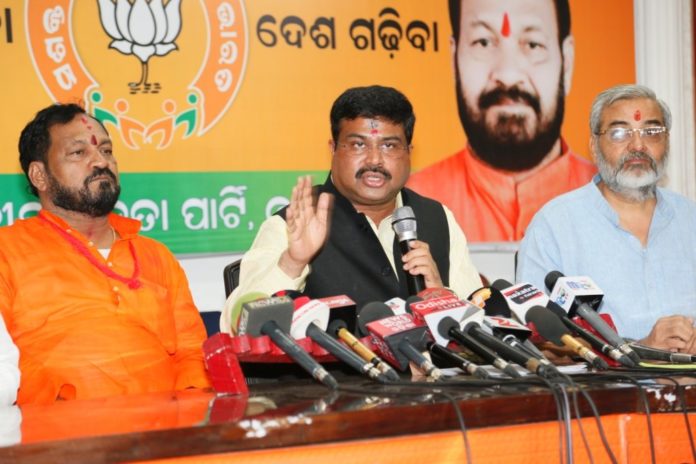 Blink News Network
Bhubaneswar, Dec 26: Union Minister for Petroleum and Natural Gas Dharmendra Pradhan Thursday evaded the question posed by a journalist on why persecuted Rohingyas were not considered for citizenship.
When as journalist asked the Union minister in a press conference in Bhubaneswar Thursday why the government chose to ignore the persecuted Rohinyas in the country, the minister first tried to avoid the question and the journalist but later talked in one line and moved towards other comfortable questions.
Responding to the query, the minister said, "Rohingyas have not come from Bangladesh. Why you are doing debate? You are done. Sit down. Let us move to the next question,"
The journalist first asked why Rohingyas from Bangladesh were not considered for citizenship. Later after intervention with fellow journalists and Pradhan he talked about the exclusion of the community migrating from Myanmar. The local journalist had asked Pradhan if they are excluded only because they were Muslims?
The minister and the BJP's strongman in Odisha also blamed the Congress for being intolerant on the issue and accused some sections of the people for inciting people against the new legislation. "The Congress party has become intolerant to the act while many other sections of the society are creating anarchy situations in the country. Many are coming out with misleading information on the legislation and the BJP is strongly against such acts," he said.
He also claimed that the anti-CAA protests were not much felt in Odisha but said that some elements are trying to create the issue here too. "In Odisha, such incidents have not been reported much. But even here some people are trying to incite people on the issue. Today we have organised a workshop. Many from other states will also come," he said.
The minister also said that the local leadership will try to reach out to masses to create awareness on the issue. He said, "From January we will try to reach to more than 1 crore people from panchayat level and municipal levels. We will reach out to the intellectuals and other sections of the people on the issue. All levels of leadership in Odisha will work towards this,"
In his press conference, the minister also blamed Nehru, Indira Gandhi and others for talking about things similar to CAA and NRC but never implementing it. He also defended the NRC, CAA and National Population Register and denied any relation of NRC and NPR. He also said that government as of now has no plans to implement NRC in the country.