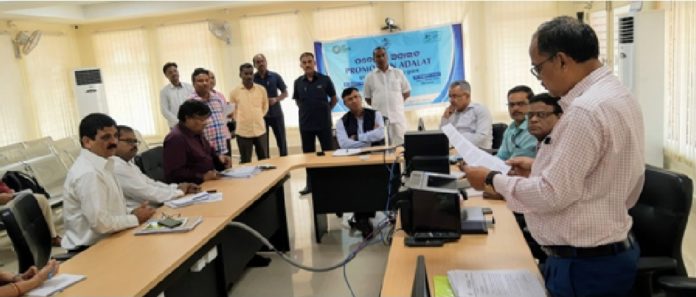 Blink News Network
Bhubaneswar, Jan 29: The Promotion Adalat of the Odisha government on Wednesday claimed to have settled a total of 616 cases on a single day. The government organized their Promotion Adalat on Wednesday to take care of the disputes in promotional issues in the state government organizations.
A total number of 616 cases were heard and disposed off on the 2nd day of Promotion Adalat held under the Chairmanship of Chief Secretary Sri Asit Tripathy and five Additional Chief Secretaries at six different places.
The promotion cases relating to the departments of Rural Development, Steel & Mines, School and Mass Education, Sports and Youth Services, Labour& ESI, Water Resources, Works, Commerce and Transport, Energy, Handloom, Textiles & Handicrafts, Health & Family Welfare, Scheduled caste and Scheduled Tribe Development, Housing & Urban Development, Electronics and Information Technology were enlisted and heard in these Adalats.
Presiding over the Adalat at Chief Ministers' Grievance Cell, Chief Secretary Sri Tripathy directed the administrative departments to expeditiously act upon the recommendations and directions of various adalats under intimation to General Administration & Public Grievance Department. Further, Sri Tripathy directed that Gradation list of the restructured cadres be prepared forthwith for ensuring promotion in February. Chief Secretary also warned that delay in holding of DPCs would be viewed seriously.
The cases were heard by Development Commissioner Sri S.C. Mohapatra, Agriculture Production Commissioner Sri P.K. Mohapatra, Additional Chief Secretary Steel & Mines Sri R.K. Sharma, Additional Chief Secretary Rural Development Sri P.K. Jena and Additional Chief Secretary Forest & Environment Dr Mona Sharma.
Replying to media query after presenting their own cases individual applicants from Jajpur, Berhampur, Joda, Balasore, Bhadrakh, Redhakhol, concealing their names said that the system of promotion adalat is a revolutionary step by the Government. It has given new assurances to the Government officers and there would be less need to run to the Judicial Courts. All of them expressed their desire that such system should be further strengthened and continued in coming years.
Principal Secretary General Administration & Public Grievance Sri Sanjiv Chopra said that the 3rd Day of the 1st Round of Promotion Adalats would be held on 31st January at same places. The same senior officers would hear the applicants on that day. The cases relating to the departments of Forest & Environment, Skill Development & Technical Education, Excise, Information & Public Relation, Fisheries & Animal Resource Development, Cooperation, Tourism, Odia Language Literature and Culture, Home, GA & PG,  MS&ME and Industries would be heard in these Adalats.