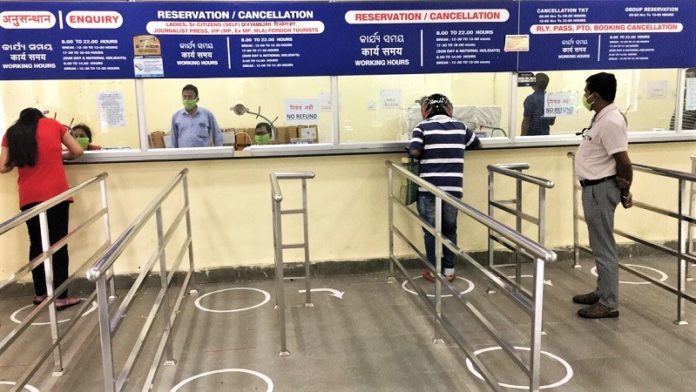 Staff Writer@Blink
Bhubaneswar, May 22: Most of the important railway stations of Odisha offering reservation facilities started opening their reservation counters from today after the Railway Ministry allowed the same.
The East Coast Railway (ECoR) said passengers can now book tickets for 230 trains from such counters. In Bhubaneswar railway stations the department started with three counters. The railway authorities said that while the number of passengers coming for tickets are lower now, the numbers are likely to swell soon.
"All important and large stations with reservation counters opened for public to purchase tickets for  all types of special trains running. Reservation counters open at Bhubaneswar. Three counters being operated today. Tickets  being issued," a statement from the ECoR said.
It also added, "200 special trains announced day before yesterday. 15 pairs of AC special trains were running before from May 1st. Tickets available for 230 trains now. Reservation counters open from 0800 hrs this morning  at all Large stations. People have started coming to purchase tickets. At the Counters, very few people seen. It is expected that more people will come to the counters during the day,"
The reservation counters have resumed operations for almost two months after the lockdown orders of the Union government put on halt all operations of passengers trains during the lockdown period.