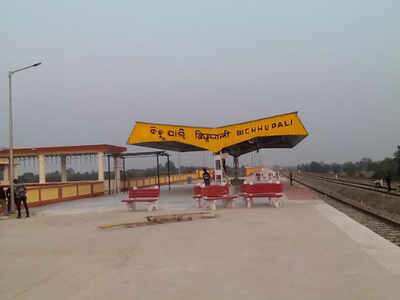 Blink News Network
Bhubaneswar, Jan 15: Prime Minister Narendra Modi had flagged off the Bolangir-Bicchupali passenger train amid much fanfare on January 15,2019. However one year down the line new information has exposed that the project was a futile attempt of the railway department.
Hinting at a gross neglect of the ground reality and least home work done by the East Coast Railway (ECoR) in Odisha, the 16.8 km long rail stretch on which the train runs has turned out to be a live example of the paper policies of the railway department.
An RTI reply from the Sambalpur division of ECoR loudly exposes the failure of the hyped project. "The Bolangir-Bichhupali station daily passenger turnover is two, per day passenger earning is Rs 20," R B Jena, public information officer (PIO) at Sambalpur Division of the ECoR is said to have said in the response to the RTI application filed by RTI activist Hemanta Kumar Panda.
While the average revenue stands at Rs 20 per day with merely two passengers on road the track between the two stations was built at a cost of Rs 115 crore. As the train travels between the two points two times a day, many a times it goes without any passenger onboard.
The stretch was opened to the public just few months before the General Elections and the State Elections of 2019. However the much delay on further expansion of the project has allegedly exposed the intention of the Union government and the ECoR.
Locals claim that due to the apathy of the railway department, the interests of the people living in those areas are still unserved. While the Khurda Road-Bolangir is yet to be completed and the extension of the Bolangir-Bichhupali line upto Sonepur is also a Utopian dream. The Khurda Road-Bolangir line is projected to be completed by 2021. The Bolangir-Bichhupali rail line is a part of the Khurda Road-Bolangir rail line.
The much delay has in the line has been irking the people since long. It is said that the demands and initial works date back to before Independence Day. The 289-km long road from Khurda Road to Bolangir was sanctioned in 1994 but yet to see light of the day.