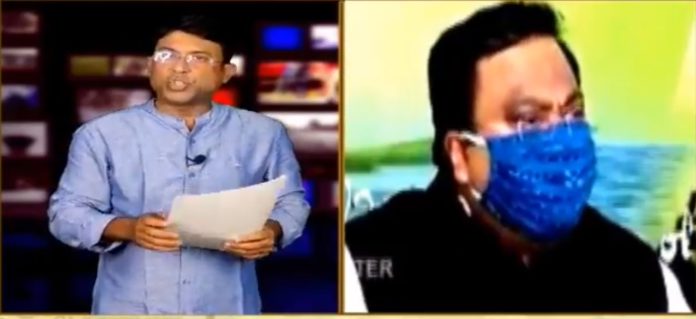 By-Staff Writer
Senior journalist and Odisha Congress Spokesperson Satya Prakash Nayak says BJD gave half-based clarification on procurement row.
Asks BJD, Odisha government to show that multiple tenders were cancelled to no suppliers or due to their pricing of masks.
Criticised Sasmit Patra for keeping mum on issues like shunning GeM platform and incentive rule violation 
Bhubaneswar, June 12: Senior journalist Satya Prakash Nayak and Odisha Congress spokesperson Satya Prakash Nayak has now dared the Odisha government and the Biju Janata Dal (BJD) to make public notes of the several cancelled tenders for procurement of masks for fight against COVID 19.
Nayak said this in response to BJD spokesperson Sasmit Patra's clarification on the alleged procurement scam which Nayak said was 'half baked' and a way to shun answers on specific queries and concerns raised against the procurement of 30 lakh masks at the MRP besides giving 50 per cent incentive to a Tamil Nadu-based supplier of masks.
"I want the BJD or the state government to make public the notes of cancelled tenders for the reasons on why they were cancelled. Let them proof that those were cancelled due to lack of suppliers or due to the higher prices they were charging compared to the Tamil Nadu-based firm which is now under lens in the whole procurement controversy," Nayak said.
Nayak said that during the whole press conference conducted by BJD spokesperson Sasmit Patra he remained mum on the important concerns like-why the Government E Marketplace (GeM) was not used for procurement, why incentive was given to the suppliers upto 50 per cent while the procurement manual restricts the incentive to 5 per cent.
"Patra seemed more interested in defending the suppliers but he remained mum on important issues like cancellation of tenders, shunning GeM portal for procurement and violation of incentive rule," Nayak said.
Nayak said that the government as per its own rule must furnish the list of nodal officer which should be as per rules appointed for procurement from GeM portal and also demanded the letter an official must submit to the government when it goes for procurement outside the GeM portal citing reasons for the same.
Patra yesterday conducted a press conference where he cited the data from other states where procurement of masks was done upto Rs 16/piece and even data from some state which bought it beyond that. Nayak however said that the data furnished by Patra was misleading and half-baked.
"Your data was highly disputed and wrong. You are citing procurement data of states like Gujarat and Karnataka which bought it for more than Rs 16/piece. But this was done when he ceiling rule of the government was not announced (on March 24). And if they bought it for above Rs 16/piece it was illegal. You cannot cite illegal procurement of other states to support your argument," Nayak said.
The war of words between BJD, BJP and Congress have now escalated while the issue is now also been taken up in other platforms too. The BJD spokesperson, State Health Minister Naba Kishore Das have categorically refuted the allegations of any wrong doings and said that all procurement was done as per the law.