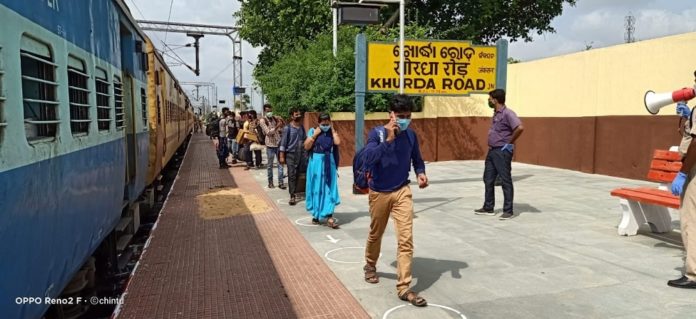 Staff Writer@Blink
 Bhubaneswar, May 6: The state government on Wednesday said that a total of 35540 Odia migrants have returned to the state till now. The state on the other hand witnessed return of 7451 workers back to the state on Wednesday alone.
Subroto Bagchi, Chief Spokpesperson of the government said, "Odia brothers and sisters are returning Odisha every day since 3rd May. 7451 Odia people have returned to Odisha today. So far 35540 Odias have returned to Odisha. Returnees are coming by train/bus and other vehicles,"
The government on the other hand assured that all adequate measures are taken to provide good amenities to the migrants coming back to the state. DK Singh, Principal Secretary,  Panchayati Department said, "We have set up 12000 quarantine centres with 5 lakh beds. We have arranged water, beds, electricity and all other facilities for the inmates,"
The government also said that on view of the reporting of COVID-19 positive cases in Ganjam, a Team consisting of Director, Family Welfare and Scientist, RMRC, Bhubaneswar has been deputed to the district to supervise surveillance and containment measures.
In addition, a Rapid Response Team has been also constituted to strengthen surveillance, contact tracing, testing and medical preparedness in the district. Health & Family Welfare Department has issued an Order to this effect.
On the request of Health & Family Welfare Department, one Rapid Response Team (RRT) from AIIMS, Bhubaneswar is visiting Bolangir for strengthening surveillance activities & medical response.