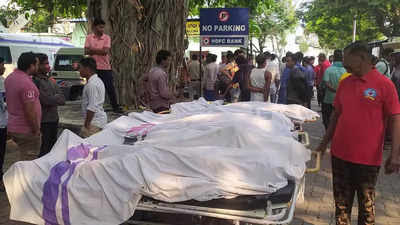 In a tragic incident, at least seven members of a marriage party were killed while four others were left battling for their lives after the vehicle they were traveling in plunged into the Sasan Canal In the wee hours of Friday.
As per sources, on Thursday, 11 people from Baddhara village under Lakhanpur Block in Jharsuguda district had gone to attend a barat function at Parmanpur Village under Sambalpur district in an SUV. On Thursday at late night, they were returning to Lakhanpur when the accident took place. Seven people died on the spot, while four were admitted to Sambalpur hospital for treatment.
Police identified seven deceased passengers as Ramakanta Bhuyan (23), Ajit Khamari (25), Dibya Luha (21), Saroj Seth (38), Sumanta Bhoi (35), Subal Bhoi (20) and Satrughan Bhoi (25) all the deceased belonged from Baddhara Village under Lakhanpur Block in Jharsuguda district.
The tragic mishap happened while they were on their back home.