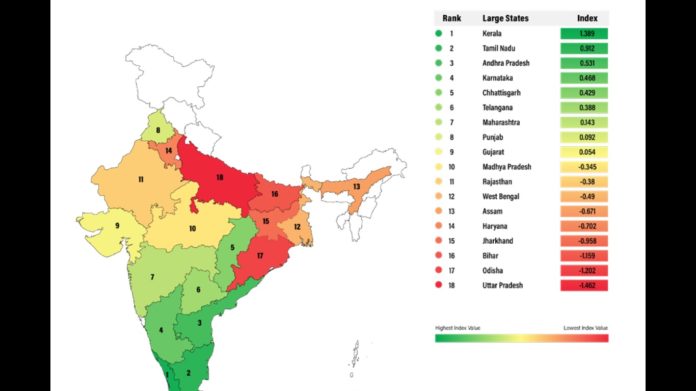 Blink News Service
Bhubaneswar, Nov 2: The Odisha government which had been flaunting its good rankings in disaster management and other sectors now seems to be on a backfoot.
The recently-released Public Affairs Index 2020 by a Bangalore-based think tank Public Affairs Centre has put Odisha at the bottom two on three parameters of governance, putting questions against the tall and hyped claims made by the Naveen Patnaik-ruled state.
"The Public Affairs Index (PAI 2020) is a scientifically rigorous, data-based framework
that measures the quality of governance at the subnational level and ranks the states
and Union Territories (UTs) of India on a Composite Index (CI)," the think tank said in a statement.
The study focused on three dimensions of sustainable development-Equity, Growth and Sustainability as the goals of governance.  While the southern states topped the list in sustainable development governance, the coastal state of Odisha proved to be a laggard.
While Kerala topped the list with 1.389 points, it was followed by Tamil Nadu and Andhra Pradesh. However, Odisha was ranked second lowest with -1.202 points while Uttar Pradesh was ranked worst with -1.462 points.
"It is interesting to note that continuing with the trend established in PAI 2019, the top four states in PAI 2020 are South Indian states. Haryana, Jharkhand, Bihar, Odisha and Uttar Pradesh, which is similar to PAI 2019, feature at the bottom of the rankings," the report said.
Interestingly, most of the Aspirational districts that have been identified by the NITI Aayog fall within this particular cluster, similar to last year.
It also added, "Measuring governance is a challenge. This issue becomes increasingly complex especially in a diverse country like India, where each state is socially, culturally, economically and politically different. PAC thus identified three broad pillars namely Growth, Equity and Sustainability that encapsulate governance,."