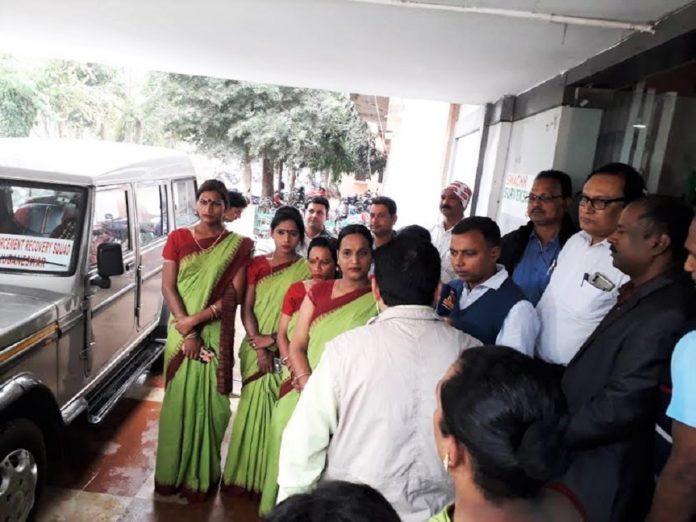 Blink News Network
Bhubaneswar, Feb 7: Bhubaneswar Municipal Corporation (BMC), the civic body of the Odisha state capital has decided to rope in a Self Help Group (SHG) comprising transgenders to collect holding taxes from big defaulters. The aim has been to pave way for their inclusion into the workforce.
The special squad of the members were formally launched at Saheed Nagar in the city by the BMC Commissioner Prem Chandra Chaudhary. The SHG group named TG Swikruti formally started their work. BMC has decided to given them their identity cards, proper.
Chaudhary said, "This will achieve a two-dimensional strategy, one by employing the Third Gender in the mainstream and to give them an opportunity to serve the society through BMC. Other one is to collect holding tax from the big defaulters.''
On this launching day on Friday, their ID cards were distributed by BMC Additional Commissioners Suratha Chandra Mallick, Abanikanta Patnaik and Deputy Commissioner Srimanta Mishra. On this occasion the members of the TG Swikruti SHG said that their slogan would be "Tax dijiye dua lijiye'" (Give holding tax and receive our blessings).
President of Swikruti self help group Meghna Sahu said, "When in many organizations and places the transgender community members are either sidelined or not given their due respect in case of employment and other social positions, this initiative by BMC will definitely help us financially. We will try our best to help the civic body to achieve its goal and also to prove our worth as the authorities have bestowed faith in us.''
It can be mentioned here that while the special squad of the TG Swikruti SHG will be working to collect nearly Rs 11 crore from big defaulters, on the Day 1 they collected Rs 66,264 from people. As per the agreement the group will earn one percent money from the amount they collected from the defaulters.