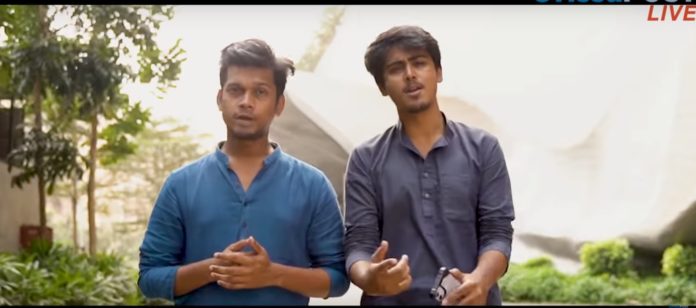 Blink News Network
Bhubaneswar, Dec 24: The smart city of Bhubaneswar has now got an anthem. For lakhs of people who live in the state capital, been here or for the Odias living outside the state and country it has come as a boon. This digital viral video is seen trying to connect all the lovers of the historical city.
The eye-catching, contemporary video release named as "Hey Bhubaneswar-The Bhubaneswar Anthem" was launched on Youtube on December 21,2019 and within three days it has started creating ripples. For thousands of Odias living outside, this video has become a content to flaunt to showcase the other parts of the country who know little about the state capital or have misconceive it a lesser developed city akin to other Indian cities.
This viral video has been made by the Chagala Boys who are known for their quality and viral content made under the banner of Bhubaneswar Komedians. This time the young duo-Akash Baghar and Samar Pratap Nayak.
This time they made the product under the banner of the digital platform of Orissa POST Live, the digital venture of English daily-Orissa POST. The duo had recently started making a series of videos for the channel under the name of 'Bula Buli' where they had been making videos of the past about the famous traffic squares of Bhubaneswar. The anthem song was the culmination of their 10-episode series for the project.
The video as of December 24, 2019 noon had received more than 29000 views. It has been making rounds on social sites like Twitter and Facebook. This has been one of their most viral contents after they made sarcastic videos on Bomikhal bridge, national media ignorance on Fani mayhem and others.
In the current video, the duo with the excellent works of the director, cinematographer, camera persons and video editors have shown the finest ways to describe Bhubaneswar. After ropping in drone cameras and giving it a contemporary look to attract the young generation, the team has written a catchy English song clubbed with famous Odia words to make it universal and enriching it with Odia pride.
They have tried to show the youths of the city perceive the state capital which has become a blend of modernity and historical ancestry. The video shows fun, lives of youths on city streets, their famous hangout spots and glimpses of Chilika lake and Infocity.
The team claims that it took almost a month for the all shoots and other works to produce this 4:51 minutes of work. With the intensity of its spread, the numbers are set to surge in the days to come.
Watch the full video here-