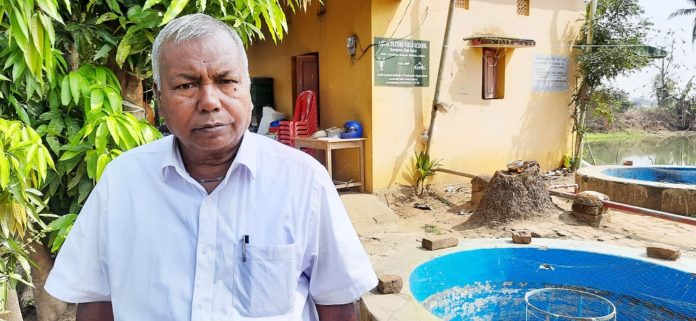 Blink News Network
Bhubaneswar, Feb 25: Batakrushna Sahoo, Padmashri award designate for 2020 from Odisha opines that the disbursement of cash under the State government's KALIA scheme for farmers is not benefiting the farmers much but adding up the drunkards in rural areas.
In his exclusive interview with theblink.in, the fish farmer from Sarakana in Khurda district claimed that the whole spirit and investment to assist farmers and farming are going in vain as many farmers have started diverting the easy flow of funds for addictions.
"Now we are seeing more number of drunkards in the village area. As soon as they get cash from the government under the KALIA scheme they are diverting it for gratifying their addictions. The menace of drinking alcohol has increased after the scheme. I see many youths doing this," Sahoo told theblink.in.
He also said that to ensure the funds are utilized properly in farming activities, government should rather invest on providing agricultural support, "Many youths of the new generation are now shunning farming due to lack of government support. The government should consider giving support through farm equipment, fertilizer and other and avoid direct cash disbursement. Cash is often prone to misuse and diversion," he said.
Sahoo is a 68-year-old farmer from the Khurda district. His name for Padmashri was announced on January 25 this year. He is likely to be conferred the award in the next few months from the President of India. Sahoo started farming on his 15 acres of land way back in 1986.
He soon started fish farming and chipped in recent scientific technologies after getting training from the scientists and other training organizations in his district. Now the farmer has expanded his business in fish farming and owns his own hatcheries. His produce has now takers from around eight districts of Odisha.
The sexagenarian owns fish hatcheries and has been producing fish seeds of Indian major carps like Rohu, Catla and Mrigal. He is believed to be the first hatchery owner in Khurda district to practice induced breeding, the miracle technology that revolutionized the aquaculture sector.
As per records from the Krishi Vigyan Kendra (KVK), Khurda currently, he produces 10 crore spawn and 1200 kgs of fingerlings in one single year. On an average his hatchery serves to 386 farmers from 174 villagers across the state. He is also training around 7000 fish farmer per year. After his fish farming initiative, many nearby farmers jumped onto the trade and now his area is considered as one of the epicenter for fish farming in Khurda.