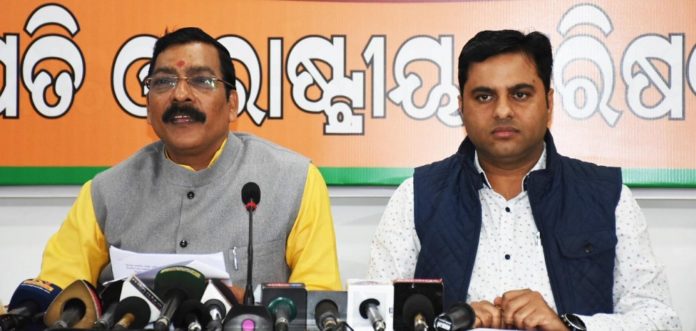 Blink News Network
Bhubaneswar, Feb 6: The Odisha BJP on Thursday attacked the BJD-ruled state government for their proposed plan to hike the electricity tariffs in the state. It also criticized the de-electricifying spree in the rural parts of the state by their power companies.
The party's state vice president Golak Mohapatra Thursday held a press conference and attacked the Naveen Patnaik government for allegedly over burdening the electricity consumers from the state.
"While several states like Andhra Pradesh and others are providing power at cheaper rates, the state wants to hike the tariffs in the state. We are not in support of such a move. The power companies working with the BJD-led Odisha government do not have the willingness to provide electricity to the people of Odisha," he said.
He also said that in Andhra Pradesh electricity is available at Rs 1.45 per unit for first 50 units, in Goa at Rs 1.40 per unit, Maharashtra at 90paise/unit, Tamil Nadu at Rs1.50/unit, and in Telengana at Rs1.50/unit. But in this state the local consumers are forced to shell out Rs 2.50/unit.
"Still the government wants to hike the rates. The industrial rates for Odisha stands at Rs 5.70/unit whereas Gujarat provides this at Rs 4.70/unit," he added.
Odisha Hydro Power Corporation Ltd (OHPC) is said to have requested the government that an amount of Rs 5225 crore as water cess should be waived otherwise the electricity rate would be higher. Mohapatra claimed that the government has already waived the amount but it is still adamant to go on with their high price plan.
He said "If the government has waived the amount, why OHPC is hiking the rates from 88paise to 95paise,".
GRIDCO has a huge amount of dues pending from Discoms, which is to the tune of Rs 3,900 crores. While these dues are still pending why GRIDCO is proposing a hike to Rs 3.81, he asked.
Mohapatra stressed that the state government had been claiming that they are a surplus electricity state but still harassing their consumers. "The government is facing a distribution loss of around 40 percent and a total amount of Rs 12,000 crore dues is pending from various sources. The government should focus on collecting these amounts but it is troubling the poor people of Odisha," Mohapatra accused.
Mohapatra demanded that the rates of electricity should be reduced, in light of the coming exams and people should be given more time for repayment. "All the dues from other sources should be collected and harassment of poor people should stop. The government should focus on poor friendly rates," he said.