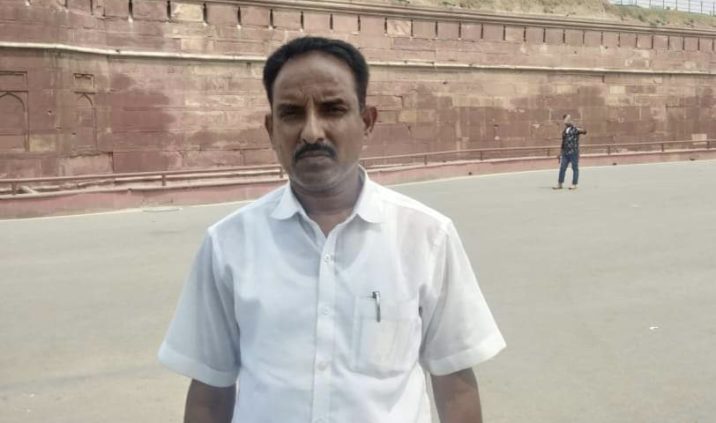 TBN, 14/06; Sarbeshwar Behura, a prominent Right To Information (RTI) activist from Dharmasala block in Jajpur district, has been apprehended by the police.  RTI activists and family members have alleged the arrest was part of a serious conspiracy by ruling local BJD leaders and Revenue officials to silence Sarbeswar from exposing the corruption in the area. False case has been slapped against Sarbeswar by the local Tehsildar, allege family members .
Speculations regarding this arrest have been circulating for several days. Prior to this incident, Sarbeshwar had experienced multiple attacks, including attempted bombings on March 27, 2021, and a false arrest conspiracy in 2022.
According to reports, Sarbeshwar was detained by the Tehsildar of Dharamsala, who fabricated a case alleging that Sarbeshwar had engaged in unlawful and illegal excavation of earthworks.
The arrest of Sarbeshwar is linked to a prolonged period of legal and administrative tension. The Dharmasala tehsil in Jajpur district boasts abundant mineral resources, particularly valuable stone. For years, illegal mining of black stone has taken place in Bichakhandi, Dankari, and Aruha hills, orchestrated by BJJ party leaders and local MLAs. This illicit activity, which has been ongoing since the late MLA Kalpataru Das's tenure, results in the loss of billions of rupees in revenue for the government annually. The mining mafia, BJJ party leaders, tehsil dar, high-ranking officials from the district administration, police, and forest department are all complicit in this black stone theft. The proceeds from this illegal mining fuel various criminal activities in the district.
Sarbeswar, has been raising awareness and exposing rampant corruption  cases as a RTI activist for the since 2010. Leveraging the RTI Act extensively, he acquired data, filed complaints with higher authorities, approached the High Court, reported cases to the NGT, and later lodged complaints with the Lokayukta. Sarbeswar's persistent efforts led to the cessation of illegal mining in Dankari and Bichakhandi. The Lokayukta directed the Vigilance department to investigate the theft at the Bichakhandi hill mines, while the crime branch took charge of the probe into the Aruha mine looting. Additionally, MLA Pranab Balbantarai's brother, who serves as the block chairman, is being investigated for allegedly misusing government funds to construct a road for his personal residence.
Despite the state vigilance's ongoing investigation, the BJD party's mining mafia continued their unlawful extraction of black stone from the Bichakhandi hills. Moreover, two innocent workers lost their lives recently in connection with this illicit operation. The subsequent accusation of Sarbeswar and the Lokayukta regarding these incidents caused great distress to the mining mafia and BJJ party leaders. Consequently, a well-planned conspiracy unfolded, resulting in the fabrication of false charges and Sarbeswar's subsequent arrest.
Over the past decade, Sarbeswar and his family have endured continuous attacks, death threats, false imprisonment attempts, and even attempted bombings. However, Sarbeswar remains unwavering in his fight against corruption, determined to persist in his mission.