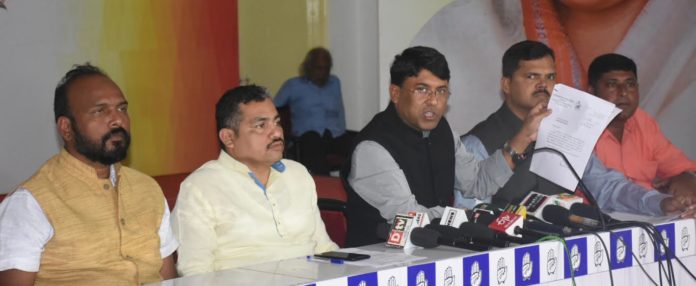 Blink News Service
Bhubaneswar: The denial of the office of the Odisha Chief Minister (CMO) Naveen Patnaik of having any documents relating to the monthly progress reports of the ministers has raised speculations in the state if there is actually any such document in existence or it was just an 'eye-wash'.
The Odisha Congress recently raked up the issue in a press conference on December 4 where it produced ample RTI responses procured from different departments to buttress their point that there is something fishy in the overall hyped claims of ministers submitting their monthly progress reports from their departments to the CM.
In a press conference, the Odisha Congress spokesman Satyaprakash Nayak cited several RTI replies from the government and claimed that the Chief Minister's Office (CMO) has admitted on record of not having any monthly report of the ministers. He also claimed that majority of the ministers too failed to submit the reports to the public when asked under the provisions of RTI Act 2005.
"When the CMO was asked for the copies of the monthly reports as submitted by the ministers to the CM, the CMO in its response to an RTI said that it does not have any such copy. Majority of the ministers also said the same thing and denied having copies of the same with their department. This raises the question over the whole hyped claim of transparency of the government," he said.
Nayak also said that except the food supplies minister Ranendra Pratap Swain all other ministers and departments denied furnishing such reports under RTI. "This has become a curious case. While Swain in his RTI replies have furnished all monthly reports and said it was sent to the CMO, the CMO on the other side denied any such reports in their possession. We want to know who is lying then when the minister says yes and the CMO says no?"
Nayak also took a dig at the tall claims of the 5T as claimed by the BJD-ruled state government and the star personal aide of CM-Karitkeyan Pandian. After the formation of the Naveen government in the state on May 2019, the CM and BJD supremo had ordered all ministers to submit their monthly progress report to him.
However denial of the CMO and other departments of possession of any such document hinted at an unfair practice and speaks largely at the non-transparent nature of the government. Doubts and speculations have now spiked on if such monthly reports are actually taking place or it has been only a game played in the media without any adequate proof.
Such RTI replies have shown a peculiar situation where a minister is ready to share the information but the CMO who talks big in 5Ts and crafted a special department on 5T on the same fails to acknowledge the existence of any such reports.