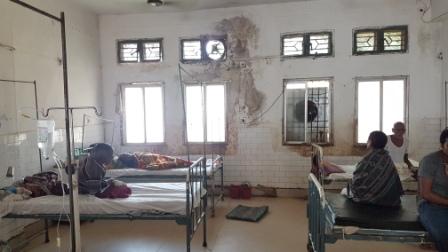 Blink News Service
Bhubaneswar: The Minister of State for Health and Family Welfare Ashwini Choubey in his recent reply in the Lok Sabha gave staggering figures relating to the sorry state of health affairs in Odisha. The minister in his data as submitted before the Lower House claimed that in the state many Primary Health Centres are working without a single doctor.
According to the data as furnished by the Union Minister the state hosts a total of 1288 Primary Health Centres (PHCs), which are local government hospitals in different parts of the state. However, interestingly a total of 110 such hospitals do not have a single doctor to attend the patients.
Moreover what is more worrisome that while many nearby states like Bihar, Telangana and others have many such PHCs which have four more than four doctors at one PHCs, Odisha has none. According to the government data there are 17 Indian states which reported not a single PHC without doctors.
The Union minister in his reply claimed that only two out of 1288 PHCs have three doctors to serve in the state. It also said that at most of the PHCs only single doctor is handling all the patients. The number of PHCs which are headed by single doctors in Odisha stood at the highest of 585. There are also 578 such centres which have two doctors to give their services and handle the patient flow.
Many other states have shown far better health indicators when it comes to the performance and strength of doctors in the state. States like Bihar, Andhra Pradesh, Telangana, Chandigarh, Delhi, Tamil Nadu and Kerala among others.
However there was also some laggard states which like Odisha also reported to have PHCs with doctors. Some of them included-Chattisgarh, Gujarat, Karnataka, Madhya Pradesh, Haryana among others.
The minister also said that health is a state subject and the responsibilities of handling it is with the state government. However he also said that Union government helps the states with funds to boost the healthcare facilities.
In his reply he said, "Public health and hospitals are state subjects, all the administrative and personnel matters, including that of recruitment of doctors at Primary Health Centres (PHCs), lies with the states. However, under National Health Mission (NHM), financial and technical support is provided to states to strengthen their healthcare systems…"