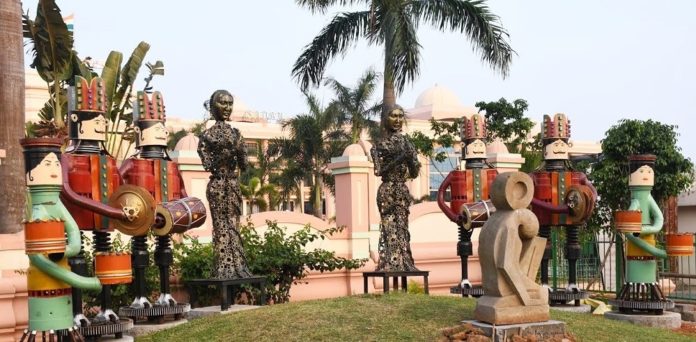 Blink News Network
Bhubaneswar, Feb 20: The East Coast Railway (EcoR) headquarter office in Bhubaneswar has set example on how to use scrap and convert them into attractive art pieces. The extravagant office edifice of the department has now come up with eye-catching human art forms outside their campus, completely made out of scrap material. 
After creating history by establishing first Waste to Energy Plant in any Government Sector organisation in India, East Coast Railway has undertaken this transformation by utilising its scrap and waste materials. The art forms have been stalled outside the Rail Sadan at Bhubaneswar and all set to garner attention from the people on the he new form of Art Work which has been designed to give a message of a meaningful activity and promoting and practicing environmental awareness through utilisation of waste materials.
"These installations are made of discarded scrap metals, nutbolts and welded into beautiful creations which literarily give life and beauty to what was once waste. The scrap materials from Diesel Engines (Loco) like Cam Gear, Cylinder Liner, Exhaust Manifold, after cooler cooling tube, Piston carriers with rods, spring, centifuge covers, air box cover, released rods of baggy filters, Bearing, Bolt heads, End plates and filter nets which had no use after release have been utilised to make these art forms," the Public Relations department of the ECoR said in a statement.
This is also another form of skill development by the Diesel Loco Shed at Visakhapatnam. The employees in their leisure time are now taking interest to beautify their premises by making sculptures of different animals, people and culture, vehicles and other innovations in the form of art work from the waste scrap materials produced from the Workshop. Some of the art materials made of waste materials have been placed at Visakhapatnam Station, Visakhapatnam Railway Stadium and Diesel Loco Shed. Similar art make will also be placed at Araku Railway Station, very shortly.